Civil Rights Movement
The Civil Rights Movement ,Civil Rights Act, and Voting Rights of 1964-65 outlawed segregation, guaranteed African Americans for equal protection and the right to vote. Protested the lack of equal pay for equal work for blacks with whites, and improved educational opportunities for people of all races. Ohioans African Americans and some whites joined the organizations and participating in protests across the South like the Student Non-Violent Coordinating Committee , and The Congress on Racial Equality.
---
The Ohio Civil Rights Act Established the Ohio Civil Rights Commission to enforce the stipulations, helping to eliminate discrimination in Ohio. Ind lending to end segregated restaurants, movie theaters, and other businesses. Numbers of organizations tried to avoid the law by becoming private clubs rather than businesses open to the public. Martin Luther King organized the Montgomery Bus Boycotted and hoped to end segregated public transportation . He advocated non-violent protest believed that people of all races would look favorably on a movement that encouraged peace and equality.



The Black Power movement instilled a sense of racial pride and self-esteem in blacks. Blacks were told that it was up to them to improve their lives. Black Power advocates encouraged blacks to form or join all-black political parties .The goal was to protect black neighborhoods and ending police brutality. The organization's rapid expansion into multiple cities across the nation, along with high-profile arrests and protests, soon made the Black Panthers an icon of the 1960s.



1. We want freedom. We want power to determine the destiny of our Black Community.

2. We want full employment for our people.

3. We want an end to the robbery by the white man of our Black Community.

4. We want decent housing, fit for shelter of human beings.

5. We want education for our people that exposes the true nature of this decadent American society. We want education that teaches us our true history and our role in the present-day society.

6. We want all black men to be exempt from military service.

7. We want an immediate end to POLICE BRUTALITY and MURDER of black people.

8. We want freedom for all black men held in federal, state, county and city prisons and jails.

9. We want all black people when brought to trial to be tried in court by a jury of their peer group or people from their black communities, as defined by the Constitution of the United States.

10. We want land, bread, housing, education, clothing, justice and peace. The Black panthers wanted to "neutralized the police force" which they viewed them as the worst perpetrator of crimes against African

Americans

.

By proving to the Oakland community that police were vulnerable to intimidation, the Panthers hoped to help demystify white society and empower black people to challenge the racial injustices inherent in it.
Powered by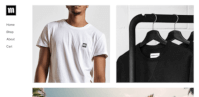 Create your own unique website with customizable templates.